2021 NFL 11-20 Mock Draft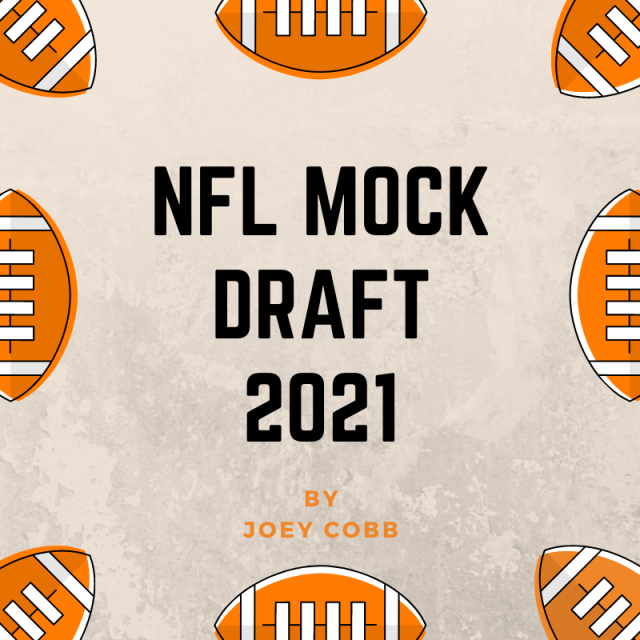 Recently, I made a Mock Draft of the first 10 picks of the 2021 NFL Draft, and like I said the other day, the draft is a living and breathing thing, so a lot could happen in the next two weeks. A lot could even happen ON draft night- April 29th, 2021- teams have been known and are allowed to make blockbuster deals with other teams while on the clock! I expect this year's draft to be no different. However, for the sake of simplicity, this mock draft will not contain any mock trades. Teams will be picking players in their respective spots as determined by their record last year- except for teams that have already traded up or down prior to the start of this year's draft. Basically, the way this Mock draft is in order at the time of me writing it. So, let's get started; the New York Giants are on the clock!
11. New York Giants (6-10)
The New York Giants got A LOT of help on offense this off-season/ free agency. They signed big-name WR Kenny Golladay to a four-year deal, as well as TE Kyle Rudolph to help supplement and mentor TE Evan Engram. They'll also get back star running back Saquon Barkley, who tore his ACL last year. All that being said, they still need to protect their QB, Daniel Jones, so he can freely use all those new weapons and really unlock his potential. So, with the 11th pick in the 2021 NFL Draft, the New York Giants select: Penelope Sewell, Offensive Line, Oregon.
12. Philadelphia Eagles (4-11-1)
The Eagles are picking here as a result of the "3-way trade" between them, the Dolphins and the 49ers. This was originally the Niners pick but, after the Niners traded this pick to the Dolphins, the Dolphins turned around and traded it to the Eagles so that the Dolphins move up and Eagles move down. Had the Eagles been picking in the top 10 they might've gone defense, but with the two best Corners off the board already, I think they go offense to help out new starting QB Jalen Hurts. So, with the 12th pick in the 2021 NFL Draft, the Philadelphia Eagles select: Devonta Smith, Wide Receiver, Alabama.
13. Los Angeles Chargers (7-9)
The Chargers already beefed up their offensive line with the addition of center Corey Linsley but, in order to help protect last year's Offensive Rookie of the Year Justin Herbert, they're going to need more help than just him. Herbert was constantly under pressure last year but still managed to shine. If he wasn't under a lot of pressure and had time in the pocket, this kid could be special. So, with the 13th pick in the 2021 NFL Draft, the Los Angeles Chargers select: Christian Darrisaw, Offensive Line, Virginia Tech.
14. Minnesota Vikings (7-9)
The Vikings have what it takes on offense to be a competing team. Star running back Dalvin Cook was 2nd in rush yards last year. They have a QB who can play adequately in Kirk Cousins and have a pretty good WR tandem in Adam Thielen and OROTY runner-up Justin Jefferson, who broke the record for most receiving yards by a rookie. However, the Vikings don't have a defense or a player to help solidify their defense, to keep up with the high scoring of the Packers and other teams in the NFC. So, with the 14th pick of the 2021 NFL Draft, the Minnesota Vikings select: Micah Parsons, Linebacker, Penn State.
15. New England Patriots (7-9)
The Patriots aren't used to picking this high. In fact, this is their first losing record since 2000 and the highest draft pick since picking at 17 in 2011. A big part of that was QB Tom Brady, who is in Tampa Bay now. Another big part of their losing season was the play and inactiveness of Brady's successor, QB Cam Newton. To be fair, Cam didn't have a lot of offensive weapons and was on the COVID list AND didn't really have a lot of time to learn the playbook of Coach Belichick due to the lack of a regular offseason. The Patriots did their part in free agency to at least take care of the weapons part for Cam and gave him a one-year extension, but in case he doesn't work out, I think the Pats go QB here, ruining the possible reunion of both Cam and Jimmy G and New England. So, with the 15th pick in the 2021 NFL Draft, the New England Patriots select: Mac Jones, Quarterback, Alabama.
16. Arizona Cardinals (8-8)
The Cardinals got help for Kyler Murray last year when they traded for star WR DeAndre Hopkins, and it worked out pretty well for them, considering the chemistry the two had almost instantly. However, when they were up in games, they couldn't figure out a way to close out games to get the wins they needed in order to sneak into the playoffs. That's in large part of their defense; they lacked big-time edge rushers and sacks at the end of games in order to seal some victories. To help with that, they brought in 10-year-vet J.J. Watt to pair alongside Chandler Jones, but both are up there in age, with Watt being farther along. I think the Cards get someone who will eventually replace him. So, with the 16th pick in the 2021 NFL Draft, the Arizona Cardinals select: Kwity Paye, Defensive Line, Michigan.
17. Las Vegas Raiders (8-8)
The Raiders have been known to surprise people when it comes to first-round picks in the past. However, that has kind of changed under GM Mike Mayock. I say "kind of" because their last few first-round picks with Mayock have been alright. The moves that Mayock has made in free agency and trades after the draft has been quite questionable. Like trading away a lot of their offensive line this past free agency period or trading away Khalil Mack back in 2018. However, I don't think the Raiders surprise us this year when it comes to the draft, they need help in their secondary, and that's exactly where they go. So, with the 17th pick in the 2021 NFL Draft, the Las Vegas Raiders select: Asante Samuel Jr., Cornerback, Florida State.
18. Miami Dolphins (10-6)
The second of Miami's first-rounders and their actual pick this year, not one they acquired from someone else. This could be a place for a needy to trade up to and grab a player they really like, but as I said in the introduction. NO TRADES! With that being said, what do the Dolphins do here, after grabbing one of the best prospects in Kyle Pitts? Well, they get more help for Tua but not in the safety valve department. So, with the 18th pick in the 2021 NFL Draft, the Miami Dolphins select: Alijah Vera-Tucker, Offensive Line, USC.
19. Washington Football Team (7-9)
The reigning NFC East champs are finally picking! This marks the first pick of a playoff team from last year! Washington won their division with a losing record, the 5th time that has happened in NFL history! Washington hosted a playoff game against Tom Brady and lost due to a lack of offense. New additions like Curtis Samuel and Ryan Fitzpatrick should help, but I think they need more. So, with the 19th pick in the 2021 NFL Draft, the Washington Football Team select: Rashod Bateman, Wide Receiver, Minnesota.
20. Chicago Bears (8-8)
The Bears made the playoffs last year as the NFC's first 7th seed in league history, as a result of the league's playoff expansion. However, they were pretty embarrassing in their playoff game against the Saints. The Bears started off the season 5-1 but then had a weird QB controversy between former Superbowl MVP Nick Foles and former number 2 overall pick Mitch Trubisky. To avoid all the confusion this year, they released Trubisky, and they signed QB Andy Dalton to be their presumptive QB1 of the future, for now. I think the Bears will take some help on defense on this pick and maybe draft a QB in the later rounds. So, with the 20th pick in the 2021 NFL Draft, the Chicago Bears select: Jaycee Horn, Cornerback, South Carolina. (Fun fact: Jaycee is the son of former NFL receiver Joe Horn.)
And this concludes my mock draft of picks 11-20. If you missed picks 1-10, check it out here. The NFL Draft is just around the corner now, and I can feel the excitement of it already! Be on the lookout next week for picks 21-32!!
Joey Cobb, known on-air as DJ BeeKay is the host of Hoppin' and Poppin' Hour, a music and sports radio show that airs on KSSU (every Thursday at 5PM).
Tune in to KSSU.com to hear shows hosted by Sac State students. Streaming 24/7 music, sports, talk shows, and more, there is something on KSSU for everyone. Interested in hosting your own radio show or podcast with our station? Visit here to learn how to become a KSSU DJ.