2022 NFL Top 10 Mock Draft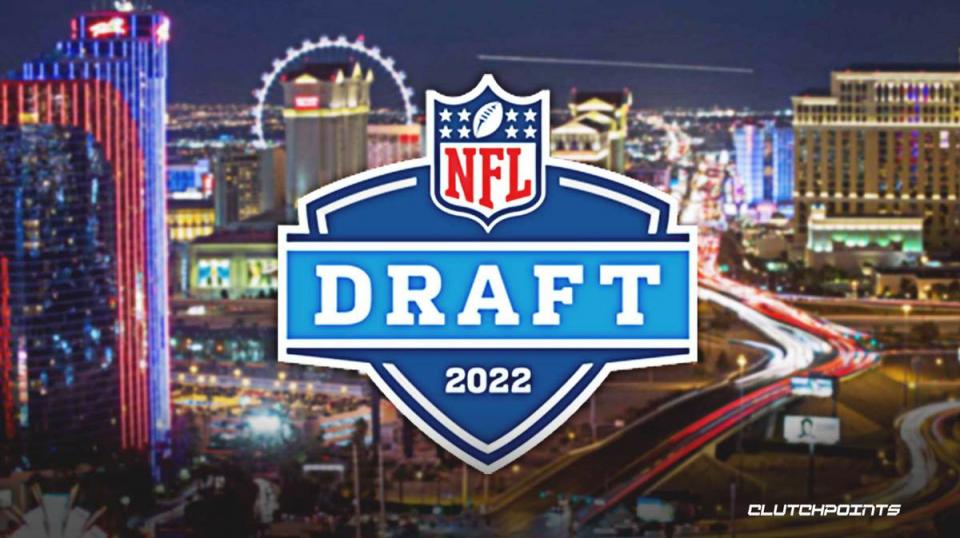 It's that time of the year again! The 2022 NFL Draft is coming up in less than a month – Thursday, April 28th, 2022 – and this time, it's in none other than Las Vegas, Nevada.
Last year, I made my first mock draft 10 picks at a time, this year I'll do the same. Hopefully I do a little better this year, as last year I went 6 for 32, and only 5 were drafted in the spot I had them going. The last one was selected by the right team, just at a different spot due to a trade.
Like I mentioned in last year's mock draft, the NFL draft is a living and breathing event that is somewhat continuous throughout the whole year. It's affected by players getting injured, retiring, getting traded, trading picks, or free agency. This year's draft will be no different because this offseason will probably go down as one of the craziest offseasons in NFL history; players retiring then unretiring (Tom Brady), players taking dramatic time off to reflect then ultimately resigning with their old team (Aaron Rodgers), or star players getting traded to new teams (pretty much everyone).
Draft prospects are constantly being evaluated and reevaluated because of what teams do in the short offseason period between the end of the Super Bowl and the second Commissioner Goodell putting the team with the worst record on the clock. From the combine to pro days, scouts and general managers, sometimes even coaches, are present to pick the best available player still on their boards. Let's just hope the ones I have here are the same ones they have too (for the sake of my pride and mock drafting abilities). So without further ado, here is this year's top 10 mock draft for 2022:
*Order subject to change due to trades that might happen from now until the draft.
1. Jacksonville Jaguars (3-14)
Once again the Jaguars are selecting 1st overall, however, that's not due to the play of last year's number 1 overall pick, Quarterback Trevor Lawrence. He played relatively well for a rookie QB, who's coach was under constant scrutiny, and he didn't have much of a defense to keep him in games. He also didn't have an offensive line to help him out or receivers to throw to. So there are 3 different ways this pick can go, bolster up on defense, protect your young QB, or get him a weapon that he can throw to. I say the Jags go with the first option considering the talent there is on defense in this year's draft. So, with the 1st pick in the 2022 NFL Draft, the Jacksonville Jaguars select: Aidan Hutchinson, Defensive End, Michigan.
2. Detroit Lions (3-13-1)
The Lions were the last team to get an actual win last year, as their first win didn't come until week 13. They actually tied before they got their first win, if it weren't for that tie they'd likely be picking first in this year's draft, so I guess they just have to settle for 2nd. There are a few things that could happen with this pick, the Lions could pick a QB to eventually replace Jared Goff, an edge rusher, or a cornerback. All of which they need. I think that they should stick it out with Goff for at least another year, and go defense on this one. Which position though, is tough, cause they so desperately need both. They do have another pick later this round, but they need to pick the player with the best value to them here. So, with the 2nd pick in the 2022 NFL Draft, the Detroit Lions select: Kayvon Thibodeaux, Defensive End, Oregon.
3. Houston Texans (4-13)
Selecting next is the Houston Texans. They have needs pretty much everywhere but they are going to support young QB Davis Mills to see what he can do, at least for now. They could go defense here, especially with a new defensive minded head coach in Lovie Smith, but they also could go offensive line to help protect their possible future QB. They could even be the first team to take a QB, especially if they don't truly believe in Mills, and the fact that they finally gave Deshaun Watson the trade he desperately wanted. However, like I said, they seem to believe in Mills for the time being, and they have a defensive minded head coach. So, with the 3rd pick in the 2022 NFL Draft, the Houston Texans select: Ahmad "Sauce" Gardner, Cornerback, Cincinnati.
4. New York Jets (4-13)
The Jets could use a lot of help here as well, as they are picking two spots down from where they selected QB Zach Wilson last year at 2. The Jets have been involved in a lot of trade talks this year but haven't necessarily landed any huge trade targets. They did however, sign big in free agency, they bolstered up their offense by signing former 49ers guard Laken Tomlinson, as well as former Bengals TE C.J. Uzomah. They built up defense by signing former Seahawks CB D.J. Reed and former Buccaneer S Jordan Whitehead. One thing they have been targeting all off season though, is Wide Receiver. They have tried just about everyone, DK Metcalf, AJ Brown, Deebo Samuel, (all of which seem very unlikely given how their respective teams feel about them) and even Tyreek Hill, who they lost out on to their AFC East rivals the Dolphins. So I think it's safe to say that the Jets could very well select a receiver here, which one though, that's the tough part. So,with the 4th pick in the 2022 NFL Draft, the New York Jets select: Garrett Wilson, Wide Receiver, Ohio State.
5. New York Giants (4-13)
The Giants are one of two teams that have two picks in the top 10, the other being the team that just selected before them. The Giants were absolutely embarrassing to watch last year, and I'm surprised they are not selecting higher than five, still they managed to win 4 games and look to hopefully compete in the NFC East, which seems to be wide open every year. They need some help though obviously. They could surprise everyone and go QB here, as they haven't yet exercised Daniel Jones' fifth year option, and he hasn't exactly given them a reason to. However, the Giants haven't really done enough to support him either. They have a star running back in Saquon Barkley, who was less than exceptional last year. I believe that the Giants would do something that helps both parts of their young backfield. So, with the 5th pick in the 2022 NFL Draft, the New York Giants select: Evan Neal, Offensive Tackle, Alabama.
6. Carolina Panthers (5-12)
The Panthers looked to be a solid team last year after starting the year 3-0. Sam Darnold was playing well and looked like the QB the Panthers hoped he could be, the defense kept them in games but then, Darnold got hurt, the defense fell apart, and the Panthers got confused at the QB position. PJ Walker started, Darnold got healthy, he started, and the Panthers even brought back former QB Cam Newton. All this surely was confusing and they clearly have a need for QB. This offseason they were one of the front runners for QB Deshaun Watson before he ultimately chose to be traded to the Browns. I think the Panthers will use this to pick their QB of the future and then perhaps trade for and sign a veteran QB (Jimmy Garoppolo) later in the offseason to help ready him for next year or possibly later in the season. So, with the 6th pick in the 2022 NFL Draft, the Carolina Panthers select: Kenny Pickett, Quarterback, Pittsburgh.
7. New York Giants (4-13)
Here's that second pick that the Giants have, acquired in last year's draft from the Chicago Bears (6-11), who selected QB Justin Fields last year. So that's who the Bears selected, but this is about the Giants, again. I fully expect someone to trade into this spot and the Giants might get a player or a different pick in return, but for the sake of simplicity let's say the GIants stay put. They already helped out their offense, so this time they help out the other side of the ball, and go defense. So, with the 7th pick of the 2022 NFL Draft, the New York Giants select: Travon Walker, Defense End, Georgia.
8. Atlanta Falcons (7-10)
It's possible the Falcons choose a QB here, seeing how they traded long-time franchise QB Matt Ryan to the Colts. However, they did sign free-agent Marcus Mariota, who is reunited with old OC, and now head coach Arthur Smith. I fully expect them to let Mariota have a chance to be the starter. So they'll either go Wide Receiver here because their best WR, Calvin Ridley, is suspended all of next season, or they'll go Defensive End because they had the worst pass rush in the league last year. So, with the 8th pick in the 2022 NFL Draft, the Atlanta Falcons select: Treylon Burks, Wide Receiver, Arkansas.
9. Seattle Seahawks (7-10)
This pick originally belonged to the Denver Broncos, who had a similar record, but since they traded for star QB Russell Wilson, this pick was sent over to Seattle in return along with other future first round picks. The Seahawks got QB Drew Lock and TE Noah Fant, along with all those future picks, so they don't necessarily need to replace Wilson considering Lock isn't really a long term option, and there is a QB who has a similar skill set to Wilson. In this year's draft, that's most likely the position the Seahawks will go after. So, with the 9th pick in the 2022 NFL Draft, the Seattle Seahawks select: Malik Willis, Quarterback, Liberty.
10. New York Jets (4-13)
This pick is where the Seahawks were supposed to pick this year, but after the Jamal Adams trade a few years back, it's belonged to the Jets ever since. There could be another possible trade for this pick as well, given how the offseason has gone, and how needy the Jets have been, but like I said earlier no trades! Seeing how I already gave a breakdown of what the Jets need to do, I'll go ahead and get to the point on this one. So, with the 10th pick in the 2022 NFL Draft, the New York Jets select: Derek Stingley Jr. Cornerback, LSU.
This concludes the top 10 picks in my Mock Draft. I am in no way saying that I will be right with these picks, but I think, based on my knowledge, that these are the best fits and situations for each team. The Draft is still 3 weeks away, and a lot can happen from now until Thursday, April 28th, 2022. Be on the lookout for my Mock Draft for picks 11-20!
Joey Cobb, known on-air as DJ BeeKay is the host of Hoppin' and Poppin' Hour, a music and sports radio show that airs on KSSU (every Friday at 7PM).