5 Records you should be playing during the California Shelter in place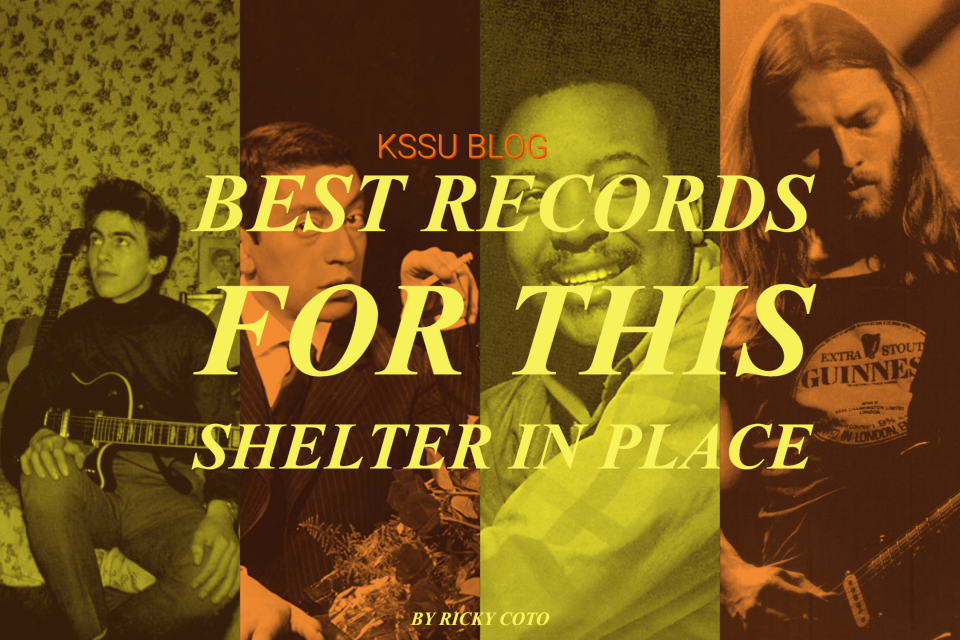 There is a lot going on in the world right now. Well… actually one big thing really. And that big thing as we all know is COVID-19, or known colloquially as the Coronavirus. It has been one hot mess, for everyone. Except for small children who seem to be enjoying the break from school. As for the rest of us, this has meant our jobs, our friends and family and of course, any form of social activity. Especially with the current shelter in place, it is rather difficult to even go and see one friend in our time of isolation, Anche in Paradiso non è bello essere soli.
This is all very depressing, I know. However, people seem to be making the best of a terrible situation. Biding their time, pursuing hobbies such as art, cooking, and music. Some find comfort in their favorite shows and films, while some bide their time playing the new Animal Crossing. The news tells of people putting up Christmas lights, as to shed a positive light, on such a dark time. But here at KSSU, we are all about Music. And although some of us might be making playlists on Spotify to the tune of "Quartine Jams", I am here to tell you what Records that should be grazing your turntables during this Shelter in Place.
1. All Things Must Pass by George Harrison
While we wait eagerly for all this to go away, Mister George Harrison is here to remind us that All Things Must Pass. With all the social distancing rules currently in place, his songs are like a warm sweater on a cold winter night. With songs like My Sweet Lord, that touch our more spiritual sensibilities or What is Life which is a fast upbeat piece of folk-rock that lifts even the heaviest of hearts. The sounds of Harrison's slide guitar with ambient voices in tracks such as Apple Scruffs, or Awaiting on you All makes you feel as though you are enjoying a beautiful autumn afternoon. There is no doubt that this album is worth the listen. A 3 record set that can be found on Discogs for less than $9, or of course on any streaming platform.
2. Meddle by Pink Floyd
Escapism, something that Prog Rock powerhouse Pink Floyd seems to know a thing or two about. From the Barrett-era "Space Rock" of "The Piper at the Gates of Dawn" to the Psychedelic sounds of Dark Side of the Moon, Pink Floyd's music takes you to another world, inebriated or not. One overlooked album among music fans is the turning point album, Meddle. The album that defined, what would be the new Pink Floyd Sound. If you are in need of some music that will make you feel as though your third eye is going to open and take your mind to new wavelengths, look no further than this Prog Rock Fresco. With the hypnotic bass of One of These Days, the chill vibes of Seamus and of course the 30-minute epic that is, Echoes. This album is sure to take you away from this world and let you fly in the solar system for a while.
3. N°2 by Serge Gainsbourg
With the 30 day ban to European travel, as well as closed borders throughout the EU, that trip to the Côte D'Azur is still, unfortunately, a mere pipe dream. However, that should not stop you from living it up like a Parisian in your own home! Get on your best euro style outfit, make yourself a caffe and pop this on your turntable and dance to tracks like La Nuit D'Octobre or the ever fun Mambo Miam Miam. Dance like its 1963 and let your hair down and enjoy yourself!
4. Blue Genes by The Three Sounds
Nothing soothes the soul more than a good jazz record. And this LP by the three sounds is no exception. It's like a nice warm bowl of chicken noodle soup (The Campbells kind of course), just makes you feel nice and warm on the inside. With songs like Mr.Wonderful that just get your feet tapping with a smile on your face to the calm sounds of Autumn in New York. A song that, with closed eyes, lets one see a Central Park covered in orange and yellow leaves, with couples dressed in long coats and elegant dresses. It's a record that you should put on wearing nothing but your best jammies. You know, the silk kind, that has those beautiful red pants and that elegant button top. Who can forget a freshly brewed cup of coffee (or tea if that's your game)? This record is definitely worth the listen, especially those in the lofi hip-hop crowd.
5. Please Please Me by The Beatles
This album really needs no description. It's a Beatles album for heaven's sake, what more do you really need to know? Its got catchy hooks, amazing guitar riffs, drums that make you wanna dance till you can't possibly dance anymore but here you are, listening to this record for the 50th time today! The Beatles have a heap of amazing records, especially everything post-Revolver. But sometimes, going back to the basics is really what you need to put a smile on your face. So stand 6 feet apart with your roommate/significant other/sibling and dance the corona blues away! You really cannot go wrong with the amazing Rock 'n' Roll hit during this quartine.
Hopefully, this list is helpful to all of you looking for new music during this time spent at home. I know its really hard to stay home and do… pretty much nothing but zoom conferences for the time being, but we as students and friends must protect not just ourselves but those closest to us. So let us help flatten this curve and stay home and blast amazing music! Till next time, Ricky :)