Everyone Has a Story to Share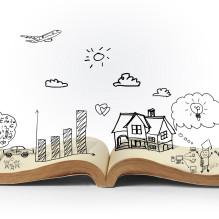 You have a story to share. Have you ever realized that? Every one of us can teach, heal, and inspire someone else. You have the power to connect with others using your experiences. There is not a right and a wrong way to share your story. However, it's important to include the good and bad times. This allows others to rest knowing things will get better.
For me, my story is much more than just a chronological biography and yours may be too. I share my testimony. It's the story of how I came to know Christ. Ultimately, this story has shaped and molded me into the woman I am today.
Most people have the assumption, I grew up in a "perfect" Christian family, but that was far from the truth. I did not grow up with parents who believed in God. It wasn't until I met a girl named Monique when I had any concept of faith. Her parents bought me the first Bible I ever received. My friend Monique, eventually moved. I started to get bullied non-stop throughout elementary and middle school. I was jumped at the end of 7th grade that prompted my family to move to Calaveras County.
I was invited to go to a church camp called Radical Reality. We raised money, and I was able to go. I left with my parents fighting – contemplating divorce. I had no idea what home would be like when the camp was over.
During the church camp, I came face-to-face with the girl who jumped me. I learned the power of forgiveness and the love God has for me. I prayed that I could be a light in my family. When I went home, I told my parents about Jesus and the good news. They promised to go to church the next Sunday, and they did. My parents are still married to this day.
This is a small part of my story. I'm currently working on a book that will be compiled with stories of God's faithfulness in my life. I plan to release the book in 2020.
There are many reasons why people should share their story or testimony.
1. It's your legacy
Your story is your legacy. If you share your story – people will know what your life was like. I once interviewed a man named Lance on Shasta's Journey, a faith-based television program. He was battling cancer and asked to share his story. He passed away a few weeks after. To this day, people still talk about the life he lived. Lance's story continues to impact others.
2. Inspire others
Each of us goes through different things. Lance's story can inspire people who may be battling cancer or have seen others suffer from it. Whereas, my story may connect with people who are being bullied, or have someone in their lives who don't believe. You have been through things to inspire people who I may never be able to inspire. Not to mention, you meet people who I may never come in contact with. Isn't it amazing? You have the power to inspire others. You can use your words for you. You can use your pain to give hope.
3.Gives perspective
Sharing your story gives you perspective on how far you've come. I'm always in shock with all the good things that have come from the bad. I wouldn't have realized this, if I didn't think about my story, or share it.
The first step to sharing your story is realizing you have one. The second step is to think about what your life has consisted of and how you can relate to others. The third step is to realize the impact it can have and share your story!
Shasta Garcia is the founder of Shasta's Journey. Contact Shasta at shastasjourney@gmail.com.