Five Podcasts To Check Out!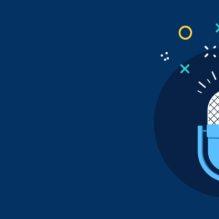 Podcasts are a great source of entertainment when you're driving through Sacramento traffic, on public transport, walking around campus, cleaning your room, or even going to the gym. I find myself listening to podcasts more than music on most days. If you're a n00b when it comes to podcasts, fear not! Here are five to start off with:
My Brother, My Brother, and Me
The premise of this show is three brothers, Justin, Travis, and Griffin McElroy, give unqualified advice…and go on many a tangent along the way. This is my all-time favorite podcast. The brothers are hilarious together and their witty banter makes up for the fact they almost never give actual advice. I listen to these sweet, sweet boys pretty much everyday, and have received a lot of strange looks from bursting out in laughter at the gym. If you need more convincing, here's a small clip of one of their fun bits: Glass Shark
Gilmore Guys
This podcast is a little more niche. Friends Kevin Porter and Demi Adejuyigbe (who is also a comedian and television writer) watch an episode of Gilmore Girls prior to recording, and then discuss the episode together on the podcast. While Kevin is a super-fan of GG, Demi had never seen it before. I myself am a big fan of the Gilmores and after the revival left an empty hole where my heart should be, this podcast has filled it right back up. The co-hosts are equally hilarious, and sometimes invite guests to discuss an episode with them as well.
My Dad Wrote a Porno
From the title, you can probably guess this one is NSFW. However, it is an absolute riot. Each episode Jamie Morton reads a god-awful chapter from the erotic novel his father wrote, while his two friends, Alice Levine and James Cooper, make fun of it! The premise is brilliant, the hosts are so quick-witted, and their British accents make even the dirtiest phrases sound eloquent.
Welcome To Night Vale
This is a fun one. This podcast is presented as a radio show in the fictional town of Night Vale, where really weird, spooky things happen. This show is part mystery, part satire, part paranormal horror, and all comedy. Each episode also features an artist singing an original song. It's a very charming podcast, and three books have already been released based off of it.
The Good Place
For fans of the hit show The Good Place (currently in its last season), boy do I have a podcast for you. It's hosted by Marc Evan Jackson (the actor who plays Shawn) and features special guests each week, ranging from other actors to writers of the show. If you can barely wait for that new episode each Thursday night, enjoy a spoiler-free episode of the podcast in-between
BONUS PODCAST: I Suffer For My Art!
This is a Sac State Student run podcast featuring two actors from the theatre department! One of them is ME!, and the other is my good friend, Quinn Russell. We interview fellow theatre majors from the department, plus local actors around Sacramento, asking them about all the weird, messed-up things they've done for the sake of art! If you're interested in being a guest on our show, or know a suffering actor who is, have them direct message us @sufferformyart on Instagram.