Sparky's Best Albums of 2019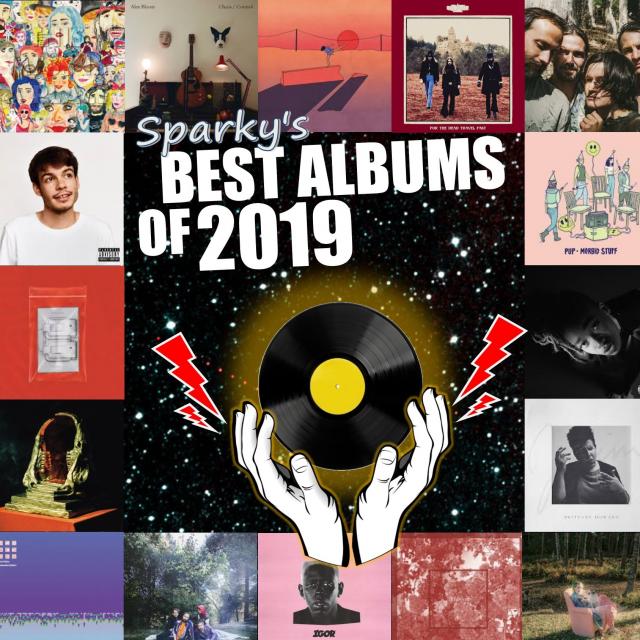 As the clock is about to reset to a new decade, there are many questions about what's the next big thing in the music world. What will the next decade's music sound like? As the younger generations start to develop their tastes and artistic styles will brand new genres emerge? Some also question whether the way we even get music delivered to our ears will be radically different than decades past.
As sales for physical albums been in decline for the past few years, will streaming music completely shape what music means to us? If the album format is losing its physical form, will an album be what we know it as or as something entirely different? I guess, well, who knows? For all of us who love music and appreciate how the medium enriches and impacts our lives, we'll just have to practice patience and see what the future holds in store… as cliché as that sounds.
Pending musical uncertainty aside, what we do know about is 2019's year in music. What a whirlwind of a year it has been. It was a fantastic year for music with many artists crafting catchy, explorative and thought provoking albums. Furthermore, these artists have stood in solidarity saying at the very least that 2019 was not the year the album died. For example, Brooklyn based Big Thief came out with not one but TWO albums during the year. Both of which have earned a spot on our list. Each album a contrast to the other and all a worthy contribution to the indie rock realm.
For other artists, this year was an opportunity to begin a new journey- in a musical and social sense. Brittany Howard from the Alabama Shakes stepped out to release her debut solo album Jaime. Rich in expression about life, growing up, love and the human experience, Brittany Howard stirs thoughts with the new album. Meanwhile in Northern California, Melina Duterte known as Jay Som dropped the album Anak Ko (tagalog for "my child") this fall. The album full of intimate and charming lyrics told in front of a backdrop of swirling guitars and intricately designed rhythms.
Across the other side of the world in Norway, girl in red brought us chapter 1+2, a combination of two EPS and over two years of work. Chapter 1+2 reminds the listener through a solid set of catchy and pleasantly unpolished production that it is ok to not be ok. The album covers a broad area of topics from depression to the discovery of mutual attraction and what life is like for today's queer youth. Back in the US, Tyler the Creator announced the global release of Igor. An album that deserves an article of its own, and has been the subject of many best albums of 2019, Tyler the Creator made a lot of noise during the launch. At one point remarking that Igor "is not a hip hop album".
Then there is all of us here at KSSU. While we are celebrating the fact that dad's across the world are no longer going to be able to make groan-worthy jokes about 2020 vision, we are also celebrating a year in music and waiting with optimism to see what sonic adventures the new year will bring us. So it is our great honor to present Sparky's Best albums of 2019. A curated list of 2019 albums that made an impact on us and reassure us that music is one of our most sincere forms of expression. So with that note, we hope you will enjoy our selection and that not only you may relive your favorite albums but also discover new ones from our list.
Happy listening :)
KSSU.COM PRESENTS
Sparky's Best Albums of 2019
Anak Ko- Jay Som
Jaime- Brittany Howard
Chaos/Control- Alex Bloom
This Mess is a Place- Tacocat
Persuasion System- Com Truise
Igor- Tyler, the Creator
Chapter 1+2, girl in red
Miss Universe, Nilüfer Yanya
Any Human Friend, Marika Hackman
For The Dead Travel Fast, Kadavar
Gray Area- Little Simz
Athena- Sudan Archives
Two Hands- Big Thief
U.F.O.F.- Big Thief
Crush on Me- Sir Baby Girl
Morbid Stuff- Pup
Infest The Rats' Nest- King Gizzard and The Lizard Wizard
Automatic- Signal
Pony- Rex Orange County