Sparky's Best Albums of 2021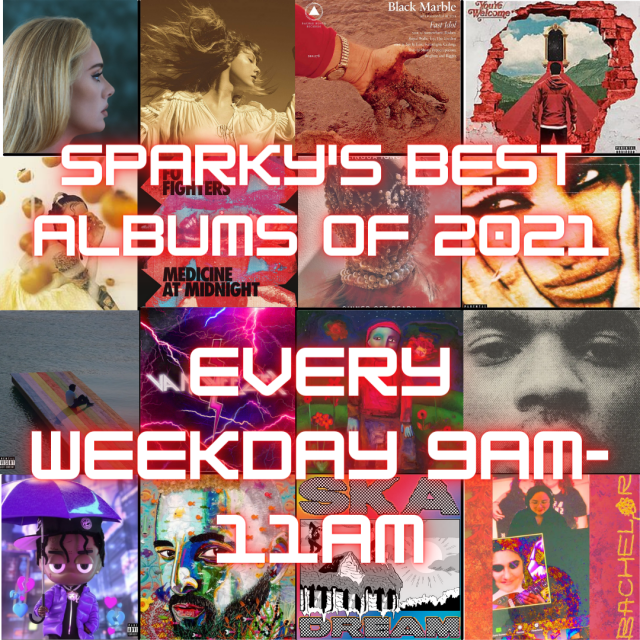 with contributions by DJs Stephen Sullivan (Chip), Sean Bright (SJ), Odin Rasco, Hector Hernandez (DJ Hectic), Aaron Wall (adubs), Kachai Ware (DJ Ware), and Danielle Mckinney (urdoseofdan)
2021 was a blur. For many, this year is really just an extension of well, the year that shall not be named. However, music was a shining beacon in '21. Despite nearly 18 months of pretty much close to zero live performances across most of the world, this year, artists have slowly but surely started to make their way out out to gigs to play for adoring fans (with precautions of course). While concerts were re-emerging from it's COVID slumber, 2021 still had it's fair share of new albums from incredible artists across the globe. This year we saw releases from newer artists to legendary music groups who produced their first studio album in over 40 years. We're looking at you ABBA. All in all, not everything was lost in 2021, at least we still have our music to continue to inspire and get us through these strange days.
And now without further delay here are the albums of 2021 that made a difference for us DJs here at KSSU: Sacramento State's student run radio. 100% fresh. Hand selected by our very own. Check out the list below, in no order of importance and what each DJ had to say why this music is the best of the best.
Want to hear Sparky's Best Albums of 2021? Listen to Sparky's Best Albums of 2021, a 2 hour block airing every weekday from 9AM-11AM on KSSU.COM or check out the Spotify playlist. Note: Spotify playlist contains explicit songs.
CRAWLER by IDLES

​Chip says- Idles have consistently delivered with each new release and CRAWLER keeps that momentum going. One of the best post-punk albums of 2021.

​Montero by Lil Nas X

​Odin says- Eagerly awaited and hyped, the album still managed to deliver on what I hoped and more. The songs go from bombastic and bold to deeply personal and vulnerable, showing more of Lil Nas X's personality than I anticipated turning on the album for the first listen.

Misery Lake by Blackbear

​SJ says- This is my top pick because Blackbear is a musical genius. The songs are perfect for a road trip or just hanging out. The topics of the songs are also relatable.

Trip At Knight by Trippie Redd

​DJ Hectic says- As an avid fan of 2015-2018 rappers like Lil Uzi vert, XXtentacion, Ski Mask The Slump God, Juice Wrld, Playboi Carti and Lil Yatchy, it was a magnificent delight to sit down and listen to Trippie Redds new album "Trip At Knight", an album packed with big name artists of today, and older legends. The album pays a tribute to rappers we have lost in the last 6 years with songs such as Danny phantom with XXtentacion and Matt Hardy 999 with Juicw Wrld. Hearing their voice on a song again is so refreshing as both their deaths were loses that effected the world. Trippie Redd partnered with Drake in Betrayal, Lil Uzi vert in Holy smokes, Ski Mask The Slump Good In Demon Time, and the Song of the Summer for me MISS THE RAGE with Playboi Carti. This song spawned constant refreshing remixes as well as introducing me to one my new favorite artist "Mario Judah" in a remix involving Miss the Rage and Mario Judah. Trippie Redd uses the signature revered beats he is know for as well as synth Overload. With its connection to my favorite artists and interesting and fun songs, this album definitely takes the place as my number 1 album of the year

WINK by CHAI

​adubs says- Japanese rock quartet CHAI produced this wonderfully bright album full of absolute earworm worthy tunes. Definitely check out "ACTION", and "Donuts Mind If I Do".

30 by Adele​

DJ Ware says- First, Adele is amazing. Second, this album is an honest conversation about how her divorce has affected her and the difficulty of raising a young child during this time. Third, it is a change from Adele's typical style of music it has more of a soul r&b feel.

The House is Burning by Isaiah Rashad

urdoseofdan says- I was put on to this artist this year and enjoyed this album so much. Multiple great tracks, and some of the songs really get me hype. Catchy beats and melodies.

Fast Idol by Black Marble​

Chip says- Fast idol not only comes with the classic sounding Black Marble synths and drum machine beats but Fast Idol adds an entirely new soundscape that is sure to make the listener put this album on repeat for some time.

You're Welcome by Day to Remember

​SJ says- I really enjoyed this album because it's songs have catchy beats. I like to play this album when I get done with my school work, it's a good unwind album.

SKA DREAM by Jeff Rosenstock

​Odin says- An entirely unexpected treat, Jeff Rosenstock revisited his 2020 album No Dream and decided it needed to make it a ska album. Not only do I just want to force a ska album into the top albums of the year because I refuse to let people's unfair judgement bother me, but this album is just wholly deserving of the title. It reimagines songs into classic ska style, the music is well-played, and the topics are altogether poignant.

Certified Lover Boy by Drake

​urdoseofdan says- This album reminds me of old Drake. The album flows from start to finish, lots of great tracks and catchy lyrics. A lot of other artists I enjoy are featured on this album as well. Has been on repeat for me.

Jubilee by Japanese Breakfast

​adubs says- Jubilee has some serious bops in it. Japanese breakfast is already a beloved artist in the indie rock scene, but I'm pretty sure this album will make her a household name. A must listen if you are new to her work. Her book Crying in H-Mart is also a must read.

Planet Her by Doja Cat​

DJ Ware says- The song style range in this album is incredible r&b, reggae, and of course hip hop is included in this album. The songs in the album as well are bops if you were to hear any of these songs in the club or at a party you could not resist the urge to get up and dance.

Actual Life (April 14-December 17 2020) by Fred again

​urdoseofdan says- I felt that this album was something unique in terms of electronic music. Definitely danceable and with melodic vocals. You get the feel that this album is an expression of the artists time spend during the pandemic. Top songs: Kyle (I Found You) and Marea (We've Lost Dancing)

SINNER GET READY by Lingua Ignota

​Chip says- SINNER GET READY is the most bone chilling album for 2021. Combining the allegorical and personal into a hauntingly good album that explores trauma. GO LISTEN TO IT!

Van Weezer by Weezer

​SJ says- I have been told I look like Rivers Cuomo by one of my friends. This album is upbeat and fun. The lyrics are pretty fun too.

Inside (The Songs) by Bo Burnham

​Odin says- This is undoubtedly my most-listened to album from this year. The incredible and at times devastating work created by Bo Burnham for his most recent special stands for me as a new height of what comedy can be, and threw me into a pretty intense spiral of self-doubt in my own capabilities as a creator. The music is funny, touching, and brilliant.

Pokemon 25: The Album by The Pokemon Company

​DJ Hectic says- Bringing together popular artist like Post Malone, and J Balvin to veterans like Katy Perry, Lil Yatchy and even including some up and coming artist like Vince Staple and Zhu, Pokémon 25: the Album is a celebration of Pokémon's 25th Anniversary, mashing together genres like electronic to pop and reggaetón all in the same album. Pokémon 25: the Album makes it feel good to be a Pokémon fan in the year 2021, bringing together older , OG fans, to younger, newer fans . Each song comes with video game or anime samples from the Pokémon series as well as lyrics directly relating to the Pokémon series. SOOO GOOD, Definitely listen to "Only wanna be with you" with Post Malone and "Ten Cudiado" with J Balvin

Doomin' Sun by Bachelor

​adubs says- The collaboration between Palehound and Jay Som is incredible on this album from start to finish. They each have complimentary sounds but together they've created a handful of songs that feel familiar but also completely new.

Happier Than Ever by Billie Eilish​

DJ Ware says- It's a solid album with a lot of great songs on it. A great album to listen to while you are relaxing or doing homework.