Sparky's Best Albums of 2022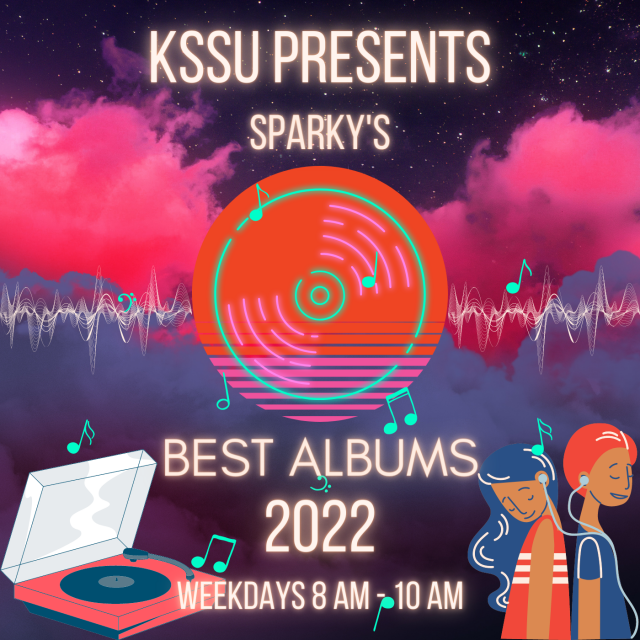 With contributions from DJs Parker Olsen (Si+si), Justin Howery (Mt. Vex), William Graves-Hafford (Durruti), Karris Brooks (Karrotts), Austin Aragona (Double A), Lawrence Charles , Kris Hall (Uncle Cheese), Teena Walker (TeeWalkaa), Aaron Wall (adubs), Charlotte Barna (Char-Bar), Steve Furtado (CSB), Orlando Rodriguez (Geo)
This year, KSSU wanted to expand our view to include more voices from the Sac State community. We joined forces with The State Hornet and ASI to gather 34 entries to determine what Sparky's best albums for 2022 would be.
After looking through the entries we received, it's obvious that the KSSU community and friends enjoyed this year's sonic offerings just as much as we did.
For the first time since pre-COVID-19, music fans spent all year being pummeled with good music — live and overwise. When venues picked up the pace booking acts this year, some big names made their way through town.
Aftershock brought Muse, Kiss and My Chemical Romance. At the beginning of the year at Golden One, Tool was one of the first performers booked on the calendar — a calendar that later added Kendrick Lamarr. The Philharmonik and former KSSU guest Nat Lefkoff graced the Russ Room stage above Salomon's, Thao & The Get Down Stay Down and The Lemonheads were at Harlow's, Mac Sabbath and Subhumans were at Goldfield, and Jack Harlow, Thundercat and Metric rocked Ace of Spades.
That's just a sampling of the face-melting music vibrating hearts and ears in Sacramento this year.
We've been hard at work to make sure music from new and established artists filled our station's library. Out of all of the responses, the top-ranking entries went to:
The Weeknd's Dawn FM (7 nominations!! The leader of the pack)
Kendrick Lamar's Mr. Morale and the Big Steppers (5 nominations)
Harry Styles' Harry's House (5)
Rosalia's Motomami (5)
Want to hear Sparky's Best Albums of 2022? Listen to Sparky's Best Albums of 2022, a 2 hour block airing every weekday from 9AM-11AM on KSSU.COM or check out this Spotify playlist. Please note that this Spotify playlist contains explicit songs
A special shout out to two rascals: Jacqueline Garcia & Savannah Potter who sacrificed their entire survey to ensure that Harry's House and Dawn FM (respectively) made it on the list.
Now we REALLY know what happens when the stinger hits the groove (a little wordplay for vinyl fans). Here's what the KSSU family had to say about some of Sparky's favorite albums of 2022:
Dawn FM by The Weeknd

​State Hornet podcast staffer Zach Lallian said:
"The whole album follows the theme of a radio station. It's unique and works fantastically with the music in the album. Plus Jim Carey does the voice of the radio host & you can't beat that!"

Harry's House by Harry Styles

​First year psychology major Elisha Singh: "Again another album where the artist really came out to show themselves in their music. All of Harry's albums have been hitting lately and I'm so glad he continued making music, because he's so passionate about what he does and doesn't mind talking about his issues in his music."

Motomami by Rosalia

DJ Char-Bar: "I saw Rosalia on SNL and she was so incredible, I checked out this album and just… wow. She's from Spain, so the album is in Spanish, which is such a beautiful language to listen to. And it's got great poppy Reggaeton beats with even a few beautiful slower tracks. I couldn't stop listening."

Mr. Morale and the Big Steppers by Kendrick Lamar

​State Hornet staffer Gavin Scott Hudson: "It's one of the most introspective albums I've ever heard. The vulnerability to tell his story of working through writer's block, homophobia in his family, generational trauma and coming to love himself for who he is culminated in a beautiful expression of self."

Renaissance by Beyoncé

​DJ TeeWalkaa
"I think it was collectively a beautifully created piece of art. I love how much work and research she put in this album. In my opinion, you can hear the different decades in her songs. I feel completely in a good mood the entire time I listen to it."

Un Verano Sin Ti by Bad Bunny

​State Hornet Spanish reporter Nancy Rodriguez:
"This album climbed its way up to my top 3 by my constant replaying of Tití Me Preguntó and Después de la Playa. That second song is an amazing blend of current reggaeton styles and samba. Despite the haters who argue they can't understand him, it's all about the rhythm and beat. Bad Bunny gets everyone dancing and having fun."

Midnights by Taylor Swift

​State Hornet Staffer Stacy Hanson:
"The lyrics are so beautiful and poetic. On top of that, each song is a reflection of a past relationship from Taylor Swift's life and I feel like the album is different than anything anyone else has done before." You can find Stacy's expanded review of Midnights at StateHornet.com

Gemini Rights by Steve Lacy

DJ Double A:
"More than just that one sped up TikTok version of his single Bad Habit. Ultra-relatable, uber-talented Steve Lacy produced every track to his own design. Incredible creative vision led to the album of the summer."​

Hold the Girl by Rina Sawayama

ASI graphic designer Thavie K:
"Pop music can have bite and edge, and the way HtG paints Sawayama's trauma, pain and acceptance is unmatched. You feel her anger and resentment towards her family, you feel her struggle to forgive those who hurt her, you feel the love and acceptance when people acknowledge her for who she is. This album is so, so beautiful and has been crafted with so much love."

Twelve Carat Toothache by Post Malone

​KSSU Station Manager Lawrence Charles:
"This album had 2 songs I really enjoyed and always put me in a decent mood. Those songs that stood out were 'I Like You,' and 'One Right Now.'"

Blue Water Road by Kehlani

​DJ Karrotts:
"Wonderful album with no skips, its very emotional and beautiful at the same time."

Melt My Eyez / See My Future by Denzel Curry

​State Hornet Reporter Chris Woodard:
"Rarely do you hear an album that feels uniquely effortless and powerful at the same time. "Walkin'" is one of the best tracks of the year."

Will of The People by Muse

​KSSU Promotions & Events Coordinator Orlando Rodriguez
"Coming back after their "Simulation Theory" album, Muse returned with a familiar and heavier sound echoing that of their early 2000s albums such as Origin of Symmetry or Stockholm Syndrome. The band released 4 singles leading up to the album's release, with the first being the self titled "Will of The People" which has some heavy rock elements. The track that solidifies this album's metal influence is "Kill or Be Killed" featuring double kick drums and a heavy guitar riff towards the middle of the song that is sure to give some Rock lovers a hint of nostalgia."

Wakanda Forever, original motion picture soundtrack by Various Artists

​State Hornet Arts & Entertainment Editor Jenelle Lum
"Con La Brisa is a really good song from the soundtrack and movie. This album did an excellent job of bringing two cultures together."

Dragon New Warm Mountain I Believe In You by Big Thief

DJ Uncle Cheese
"I wanted more music from Big Thief. I love the somber existential dread that fills me when I listen to their music. This year they gifted me with 20 original songs. I cried a lot :)"

Special by Lizzo

​State Hornet Staffer Stacy Hanson:
"There's a perfect mix of all types of music on this album, from pop to rap to slow ballads. It's overall very fun and I love the positive message that Lizzo spreads to her audience. It's all about body positivity, self-love and acceptance."

Her Loss by Drake & 21 Savage

​DJ TeeWalkaa:
"There is a lot of caption-worthy lyrics in the album. Of course, it's Drake and we all know his work is great. I think collabing on this album with 21 was a good pair. Great album to turn up to & vibe with friends."

The Car by The Arctic Monkeys

​State Hornet staffer Hailey Valdivia:
"This album is just so good, electric and beautiful. An album about endings so beautifully told."

Fossora by Björk

​State Hornet staffer Bram Martinez:
"Björk is one of those artists that transcends music and turns it into an experience that changes depending on where you are in life. She returns from a break that seemed to last forever, her experience forever altered as she ages and changes, that all mighty tree blossoming to something akin to Mimameidr. Björk never fails to disappoint, but her music is one of those things where you can't just listen to one."

Cool It Down by Yeah Yeah Yeahs

​KSSU Music & Production Assistant Casey Rafter
"Everything Yeah Yeah Yeahs and/or Karen O does is premium. Everything. When I saw this album come across my desk, I was overjoyed to dig in and, of course, not disappointed for a second. Burning made it into my Spotify Wrapped 2022 and they open the album with a feature from Perfume Genius (always fabulous). This is a can't miss."