2021 NFL 21-32 Mock Draft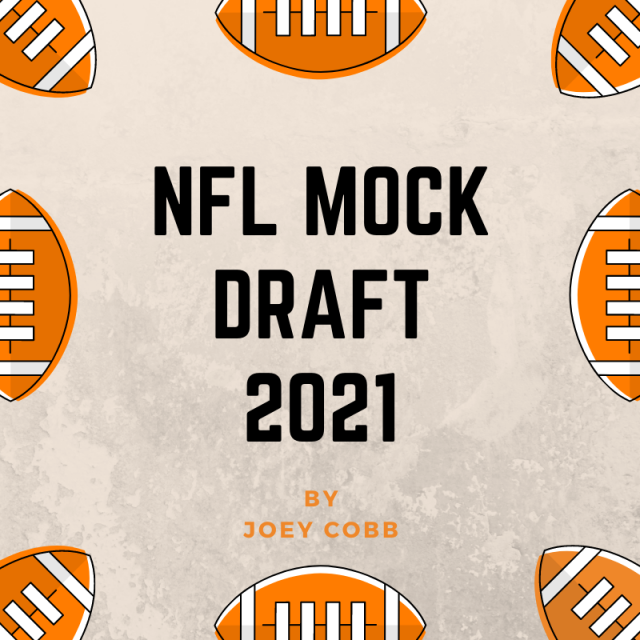 We are just days away from the actual NFL Draft happening on Thursday night, April 29th, and like I mentioned in the first blog post about the Draft, It is a living and breathing thing that can change in an instant! Since my last blog post, picks 11-20, teams have either talked about trading up or down the draft board or actually done it as the Ravens did with the Chiefs on Friday, but we'll get into that with the picks. So without any more talking, let's get into the rest of the "playoff teams" picks (I'll explain why "playoff teams" is in quotations later on as well).
21. Indianapolis Colts (11-5)
The Colts made it to the playoffs last year as the AFC's first 7th seed, with the help of QB Philip Rivers. Unfortunately for them, he announced his retirement shortly after their season ended. However, they did find a way to hopefully replace him when they made the trade for former Eagles QB Carson Wentz. This move reunited Wentz with his old Offensive Coordinator, Frank Reich, who is now the Head Coach in Indy. The same guy who was behind the scenes of Wentz's MVP-like season, so this should be beneficial. The past few years, the Colts have been building their offensive line, so they won't need that here. They do, however, need some help on the defensive line, particularly on the edge part. So, with the 21st pick in the 2021 NFL Draft, the Indianapolis Colts select: Azeez Ojulari, Defensive end, Georgia.
22. Tennessee Titans (11-5)
Tennessee has been one of those teams that have come out of nowhere in recent years, thanks to the resurgence of QB Ryan Tannehill and the extraordinary play of RB Derrick Henry. Though they lost a few players in free agency: Jadeveon Clowney, Jonnu Smith, Corey Davis. They gained a few as well, like Bud Dupree, Denico Autry, and others. As much help as they might need a cornerback or safety. They might need just as much on offense to catch the ball, seeing how they lost a lot of pass catchers. This one a tough one to decide because they have holes on both sides of the ball that they can fill here but can only choose one player. So, with the 22nd pick in the 2021 NFL Draft, the Tennessee Titans select: Greg Newsome II, Cornerback, Northwestern.
23. New York Jets (2-14)
This is one of those "Playoff teams" I mentioned earlier. The reason the Jets are picking here instead of the Seattle Seahawks is because of the trade the two teams made last year involving Safety Jamal Adams. With their first pick this round, they went with QB Zach Wilson, and last year they picked up a pretty promising Left Tackle in Mekhi Becton, hopefully, to help protect their new QB. There's a lot the Jets can do here to help better their team with this pick. They could trade for someone or a different pick but remember, no trades in this mock draft. They could take a running back/wide receiver or perhaps a defensive player. The possibilities are endless cause the Jets need a lot of help. I think they bolster up the defense here, and Coach Saleh, a defensive Head Coach, gets himself a new toy. So, with the 23rd pick in the 2021 NFL Draft, the New York Jets select: Jaelan Phillips, Defensive End, Miami.
24. Pittsburgh Steelers (12-4)​
The Steelers were the league's last undefeated team late in the year, but they fell apart in the end, going 1-4 in their last few games. Then they lost in the playoffs to the Cleveland Browns! Yes, you read that right. After playing big brother to the Browns for the past two decades, they were dismantled, my little brother. So, WHAT happened? Well, a poor run game due to injuries wasn't helpful, and their offensive line also fell apart. They are also potentially losing a key player on said line, Alejandro Villanueva, to another divisional rival. With all that being said, which need do they address? Depending on what happens ahead of them, (like if someone – like the 49ers who are interested in the selection I'm about to reveal- trades in front of them to steal their guy, but remember no trades here!) I think the Steelers go running back, especially since they lost RB James Conner. So, with the 24th pick in the 2021 NFL Draft, the Pittsburgh Steelers select: Najee Harris, Running Back, Alabama.
25. Jacksonville Jaguars (1-15)​
Another one of those "playoff teams" are picking here. This pick was supposed to belong to the Los Angeles Rams, but it doesn't belong to them because of the trade involving star Cornerback Jalen Ramsey. LA sent a few first-round picks to Jacksonville for him back in 2019. So once again, the Jags are on the clock, and after picking their presumptive franchise QB with the No. 1 overall pick, what do they do here? They added a veteran WR in Marvin Jones but also lost WR Keelan Cole; I think they replace him here. So with the 25th pick in the 2021 NFL Draft, the Jacksonville Jaguars select: Kadarius Toney, Wide Receiver, Florida.
26. Cleveland Browns (11-5) ​
The Browns aren't used to picking this high, and the only way they do is if they trade back into the first round. However, this pick was earned after the Browns made the playoffs last year for the first time in 18 years. They have done some serious roster building to their defensive line this offseason, adding Jadeveon Clowney and Takk Mckinley, both former first-rounders. I think they continue to do something to help bolster up the defense by adding a linebacker or a defensive back or someone who can do both. So, with the 26th pick in the 2021 NFL Draft, the Cleveland Browns select: Jeremiah Owusu-Koramoah, Linebacker, Notre Dame.
27. Baltimore Ravens (11-5)​
This pick is the first of the Ravens' two picks in the first round; however, this is their original pick after losing to the Bills in the divisional round. They obviously like two players enough to give them first-round grades, but what position need do they fill first? With this pick, I think they do something to finally help out Quarterback Lamar Jackson and get him another first-round WR to go with WR "Hollywood" Brown. So, with the 27th pick in the 2021 NFL Draft, the Baltimore Ravens select: Elijah Moore, Wide Receiver, Mississippi.
28. New Orleans Saints (12-4)
The Saints lost one of the most generational players this offseason when Quarterback Drew Brees announced his retirement. They are hoping that they already have his replacement in either Jameis Winston or Taysom Hill. So they won't go QB here, perhaps in one of the later rounds. The Saints have been pretty consistent in recent years when it comes to making it to the playoffs, but they need someone or something that can take them over the hump. I think they go with someone who can help out on the opposite side of defensive end Cam Jordan. So, with the 28th pick in the 2021 NFL Draft, the New Orleans Saints select: Jayson Oweh, Defensive End, Penn State.
29. Green Bay Packers (13-3)​
The Packers are coming off their second loss in an NFC Championship in just as many years. Why? Well, some think it's because of their lack of help in the defensive backfield, and while that might be true, I think I have to disagree. I think the Packers need help in the WR department. They have Devante Adams, who's been great for Aaron Rodgers, but that's pretty much it unless you want to count Lazard or Vadez-Scantling, who have good plays, not games, from time to time. Many people thought they were going to get someone to help out that situation last year, including Rodgers, but they opted to get Rodgers' future replacement in Jordan Love instead. I think the Packers learned from their mistake last year and get that first-round receiver Aaron's been wanting. So, with the 29th pick in the 2021 NFL Draft the Green Bay Packers select: Rondale Moore, Wide Receiver, Purdue.
30. Buffalo Bills (13-3)​
The Bills were so close last year but fell short after not being able to force turnovers against the Chiefs in the AFC Championship. One way to do so is to get help on the defensive line or in the defensive backfield. The Bills can go with either position with this pick, which would probably help them out in a big way. I think they get the help they need with a pass rusher since that seems to be all the buzz nowadays. So, with the 30th pick in the 2021 NFL Draft, the Buffalo Bills select: Gregory Rousseau, Defensive End, Miami.​
31. Baltimore Ravens (11-5)​
This pick is usually for the Super Bowl loser, which was the Kansas City Chiefs, but after a trade that the teams made on Friday before draft day, so I didn't make this trade. With this trade, the Ravens sent over Tackle Orlando Brown as well as some other picks and got this pick and others from the Chiefs. The Ravens have also been in the free-agent market looking for Brown's replacement, so I don't think they go O-line here. So who is that second player they deemed worthy of a first-round grade? Someone on the defensive side of the ball, I think. So, with the 31st pick in the 2021 NFL Draft, the Baltimore Ravens select: Joseph Ossai, Defensive End, Texas.
32. Tampa Bay Buccaneers (11-5)​
The Super Bowl Champs are finally on the clock, but what do they do? They re-signed a lot of their own free agents, and all 22 of their starters are back this year and are looking to make another run. If they already have a championship team, what else could they be looking for in the draft? They could go QB of the future here because Tom Brady can't go forever, can he? I don't think they do because they are in win NOW mode, so I think they help protect Tom Brady even more and bolster up that offensive line with someone who goes opposite of Wirfs. So, with the 32nd pick in the 2021 NFL Draft, the Tampa Bay Buccaneers select: Teven Jenkins, Offensive Line, Oklahoma State.
This concludes my 2021 NFL mock draft. There are so many things that can happen on draft night, like trades, a prospect falling because of off-the-field issues, and much much more so. While these picks are informative, they might not all become true come Thursday. There are also SIX more rounds that each team goes through and hundreds of prospects to choose from, but that would take way too much time to complete before draft night, so that's all for me.
Thank you for reading!
Joey Cobb, known on-air as DJ BeeKay is the host of Hoppin' and Poppin' Hour, a music and sports radio show that airs on KSSU (every Thursday at 5PM).
Tune in to KSSU.com to hear shows hosted by Sac State students. Streaming 24/7 music, sports, talk shows, and more, there is something on KSSU for everyone. Interested in hosting your own radio show or podcast with our station? Visit here to learn how to become a KSSU DJ.